Listen, we weren't expecting the second coming of the '72 Dolphins this season … but it's still a bummer.
Well, it's not like we were expecting the second coming of the '72 Miami Dolphins this season.
Packers fans all knew there would be growing pains and some ugly struggles, but while we all expected losses this season … did the first one have to come like this? With a double-digit fourth quarter collapse against a very flawed and beatable foe, where the greatest problem wasn't as much as youthful clumsiness but familiar concerns? To give us excited hope and then crash it down? To do my best impression of a dad, I'm not mad; I'm just disappointed.
In the end, there are two ways to look at the Packers' 25-24 loss to the Atlanta Falcons on Sunday. The optimistic way is that Green Bay almost started the season 2-0 on the road, against their longest-tenured rival and a team on the rise, the second game holding a 12-point lead into the final frame without their two most explosive offensive weapons and then some. Bodes well for the rest of the season! The pessimistic way, however, is that Green Bay just botched a very winnable game against a inferior team due to long-term problems – like a hemorrhage-happy defense and an offense prone to extended in-game naps. Bodes poorly for the rest of the season!
Where most Packers fans end up will likely depend on next week, when Green Bay will take what they hopefully learned here and play two games in less than seven days: the home opener against New Orleans on Sunday followed by a Thursday night divisional match against America's sweetheart, the Lions. In the meantime, let's take a final look back at a game we hope we won't come to really regret in about 16 weeks.
1. Dearly missing in action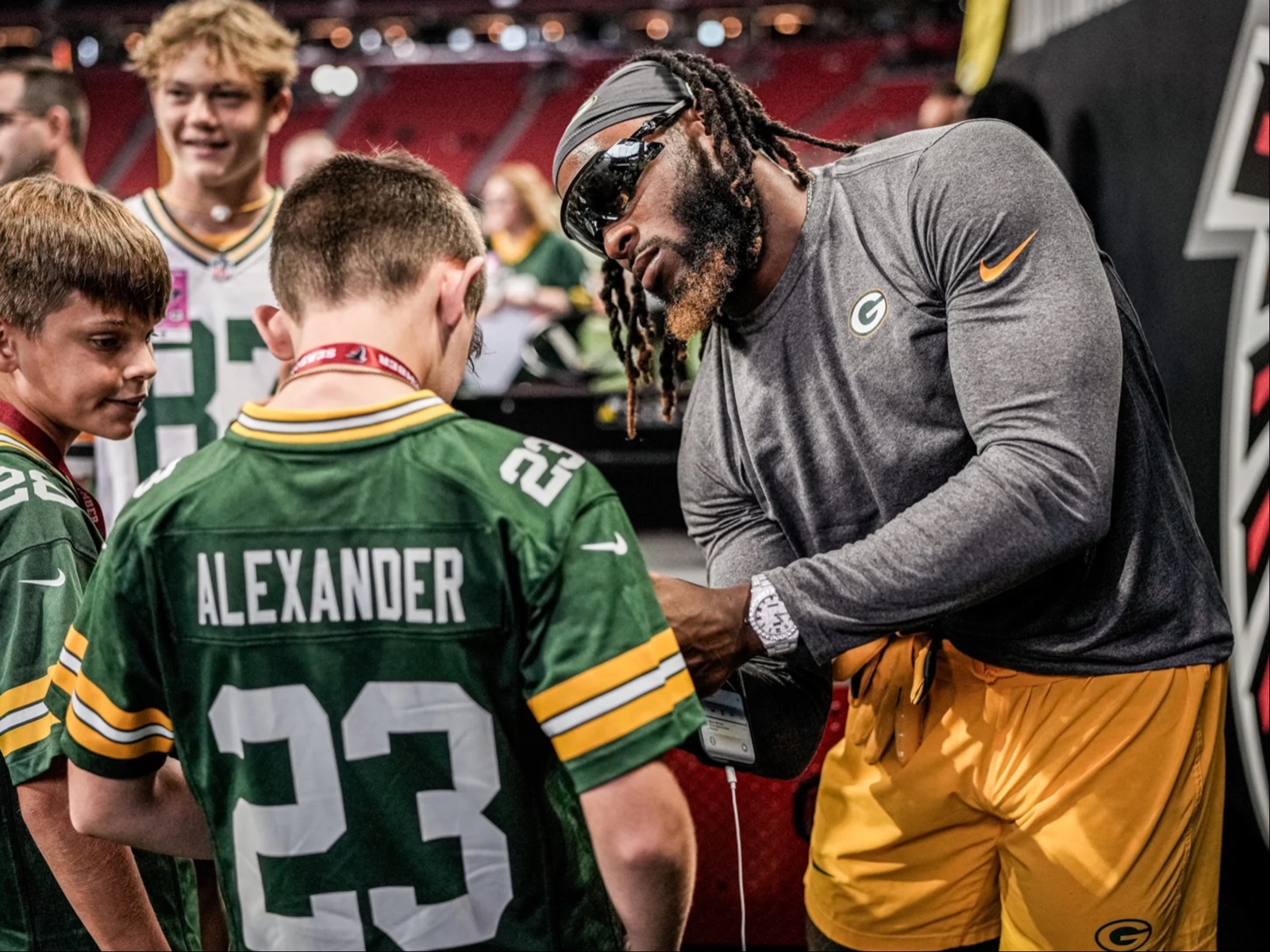 Two games into the regular season, we still haven't ACTUALLY seen the new-look Green Bay Packers. Hotspot speedster Christian Watson, the Pack's best deep threat and field-stretcher, has yet to touch the field this year – and then Aaron Jones, as seen above, was in his scrubs all Sunday long thanks to his hamstring injury from last week's win. Perhaps we should just be happy that, without their two best and certainly most dynamic offensive players (not even including David Bakhtiari's seemingly turf-related scratch and losing Elgton Jenkins early on to injury) Green Bay was even in a place to squander a win.
Here's to hopefully getting them all back for next week's twofer – or at the very least Jones, because as we saw Sunday, A.J. Dillon may be a charismatic complementary running back, he's not up to par to be The Guy.
2. Foiled by fashion
I'll return to some actual football-related takeaways in a second … but first, I just need to say that, if the Packers had to blow a game like this, at least it came against some of the best uniforms in the league. Like many NFL squads, the Falcons pulled some throwback jerseys out of the closet for the current season – including with their era-accurate headgear, something fairly new thanks to a recent league rule change. The resulting red-helmeted flashback look was one of the coolest-looking games on TV yesterday (even when the on-field action was hard to watch for Green Bay fans). Hopefully the Falcons make a habit out of these throwbacks – and make a habit out of beating the rest of the NFC North this season. After all, they owe Green Bay a favor anyways after the Pack handed this win over.
3. Quick start
Jayden Reed is… FAST 💨

Packers lead, 7-3. pic.twitter.com/H0DoAZoyWv

— GBP Daily – Rob Westerman lll (@GBPdaily) September 17, 2023

Jayden Reed is… FAST 💨
Packers lead, 7-3. pic.twitter.com/H0DoAZoyWv
— GBP Daily – Rob Westerman lll (@GBPdaily) September 17, 2023
The Pack may not have had Watson on the field on Sunday, but on this play, rookie Jayden Reed did an awfully good impression of him. After two wobbly opening drives ("drive" being a polite word, since the first was mostly just a long pass interference followed by nothing – actually, "nothing" would've been better than the several stupid penalties that pushed them out of field goal range), Love and company put together a nice balanced drive capped off by this speedy touchdown from the rookie. Reed would end up catching four passes on the day for 37 yards plus one more touchdown – and proving just two games into the new season that he more than belongs in the Pack's receivers rotation.
4. The next generation is now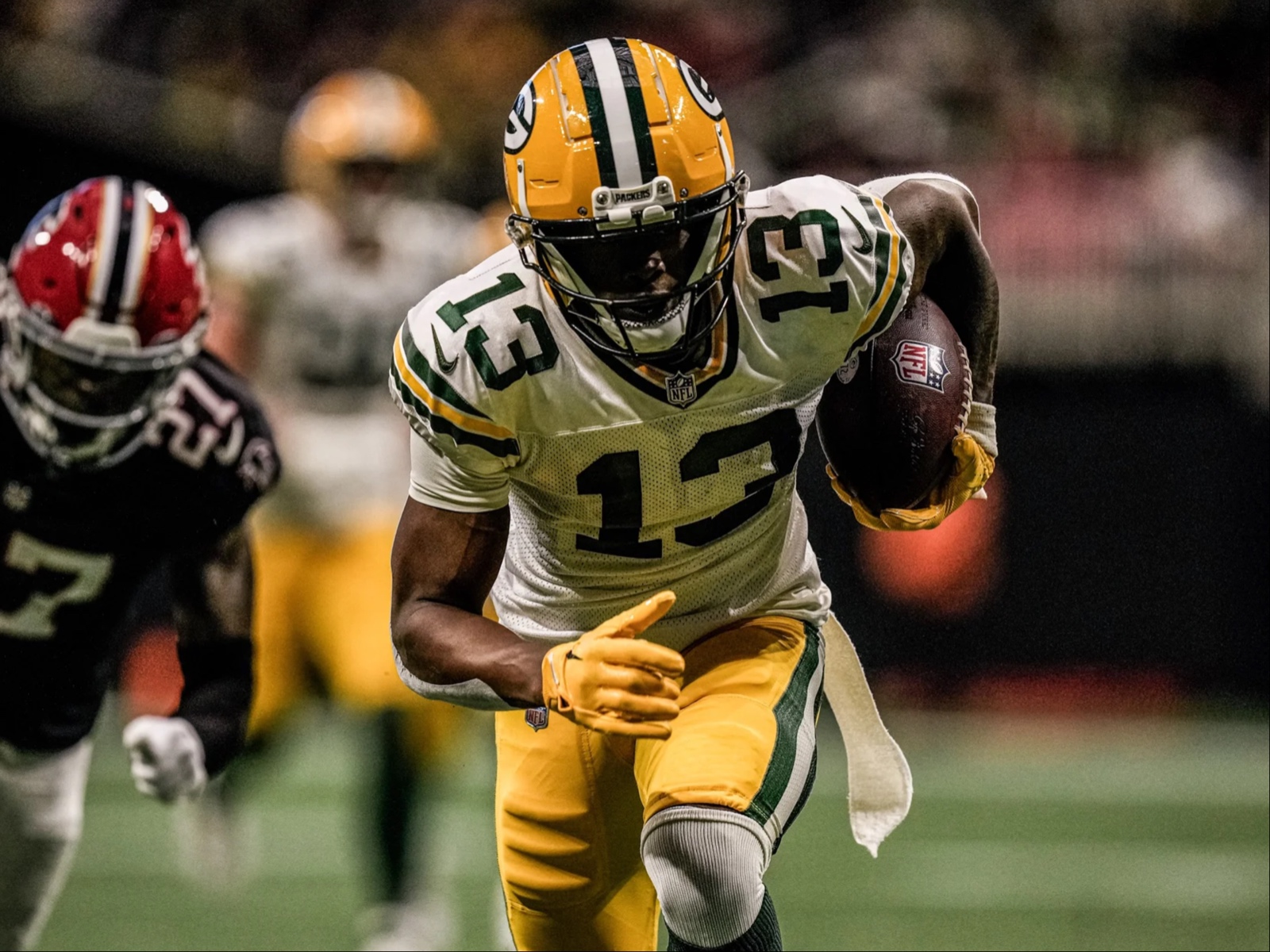 Reed wasn't the only rookie receiver making his first (much-needed) impact on Sunday. Fellow newcomer Dontayvion Wicks also scored his first touchdown as a pro, bouncing off tackles for a 32-yard Packers score in the third quarter, while also leading the team in receiving yards (admittedly with just 40). The pass-catchers room was looking awfully light at the start of the year – especially on NFL experience – but between these early displays from Reed and Wicks, plus Musgrave the rookie tight end, Green Bay might actually be secretly rich in receiving talent. At the very least, I'm not seeing an Amari Rodgers 2.0.
5. Here's to you, Mr. Robinson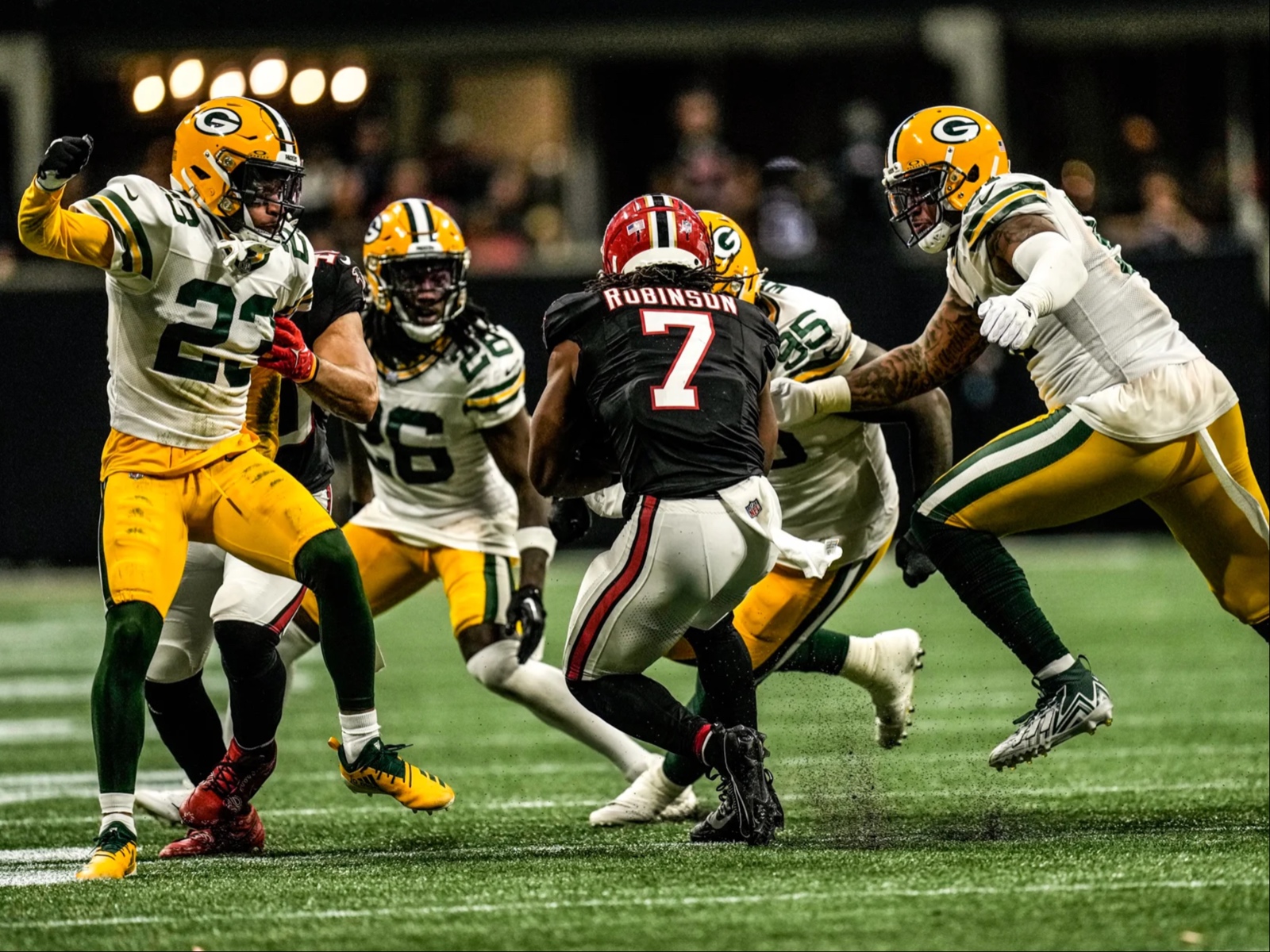 Look! A rare moment where the Packers defense had Atlanta running back Bijan Robinson surrounded! Indeed, the Packers let the Falcons lauded rookie have quite the coming out party on Sunday, letting the running back run rampant for his first 100-yard performance as a pro (plus 48 yards in the air).
6. Love to see it
pic.twitter.com/aOftRl1ItZ — CheeseheadTV 🧀 (@cheeseheadtv) September 17, 2023

pic.twitter.com/aOftRl1ItZ — CheeseheadTV 🧀 (@cheeseheadtv) September 17, 2023
Two weeks into the Jordan Love era, there's a lot to love about the new number one in the quarterbacks room. The essentially fourth-year rookie showed more proof on Sudnay that he's a true professional NFL quarterback, throwing for a slight 151 yards but tossing three composed touchdowns in the process and smartly scrambling for a bonus 23 yards – including the above run, topped off with a little 'tude at the very end. There was a lot of gossip before the season that Love was straight-up not good – rumors that, two games in, have proven to be just that.
7. Hate to see it
What is Jordan Love doing? Packers lose to Falcons 25-24… ouch#Packers #ButtFumble

pic.twitter.com/r8tSE8GB88 — Out Fox Sports (@MarkHolder27) September 17, 2023

What is Jordan Love doing? Packers lose to Falcons 25-24… ouch#Packers #ButtFumble
pic.twitter.com/r8tSE8GB88 — Out Fox Sports (@MarkHolder27) September 17, 2023
Welp, uh, they can't all be winners. Unfortunately, this gaffe came at a fairly critical time, during the Packers' pitiful fourth quarter when the offense couldn't manage a point, much less a mere first down, and what could've been a helpful first down became yet another punt keeping the Falcons' comeback cooking. Fortunately, the rest of Love's day looked pretty solid – and provided more evidence that, while he's not a solution to all the Pack's issues on Sunday, he was far from a problem.
8. Dropping the ball
Dropped INT No. 2 for Desmond Ridder today. pic.twitter.com/uByOB0ouqD

— Matt Waldman (MattWaldman) September 17, 2023

Dropped INT No. 2 for Desmond Ridder today. pic.twitter.com/uByOB0ouqD
— Matt Waldman (MattWaldman) September 17, 2023
Can't say the Packers didn't have their opportunities on Sunday – especially on defense. In addition to getting handed a 12-point lead with just over a quarter to go, the Green Bay defense had two critical interception drops: one early on by Jaire Alexander that could've gone back for another Packers pick-six and the one above by Quay Walker that could've at least put a much-needed speedbump in the way of the Falcons' late comeback. Also enjoy the commentary from football expert Matt Waldman explaining why Falcons Desmond Ridder is still struggling in his second season as an NFL quarterback. Which apparently comes to some news to a certain head coach …
9. From Hotlanta to the hot seat?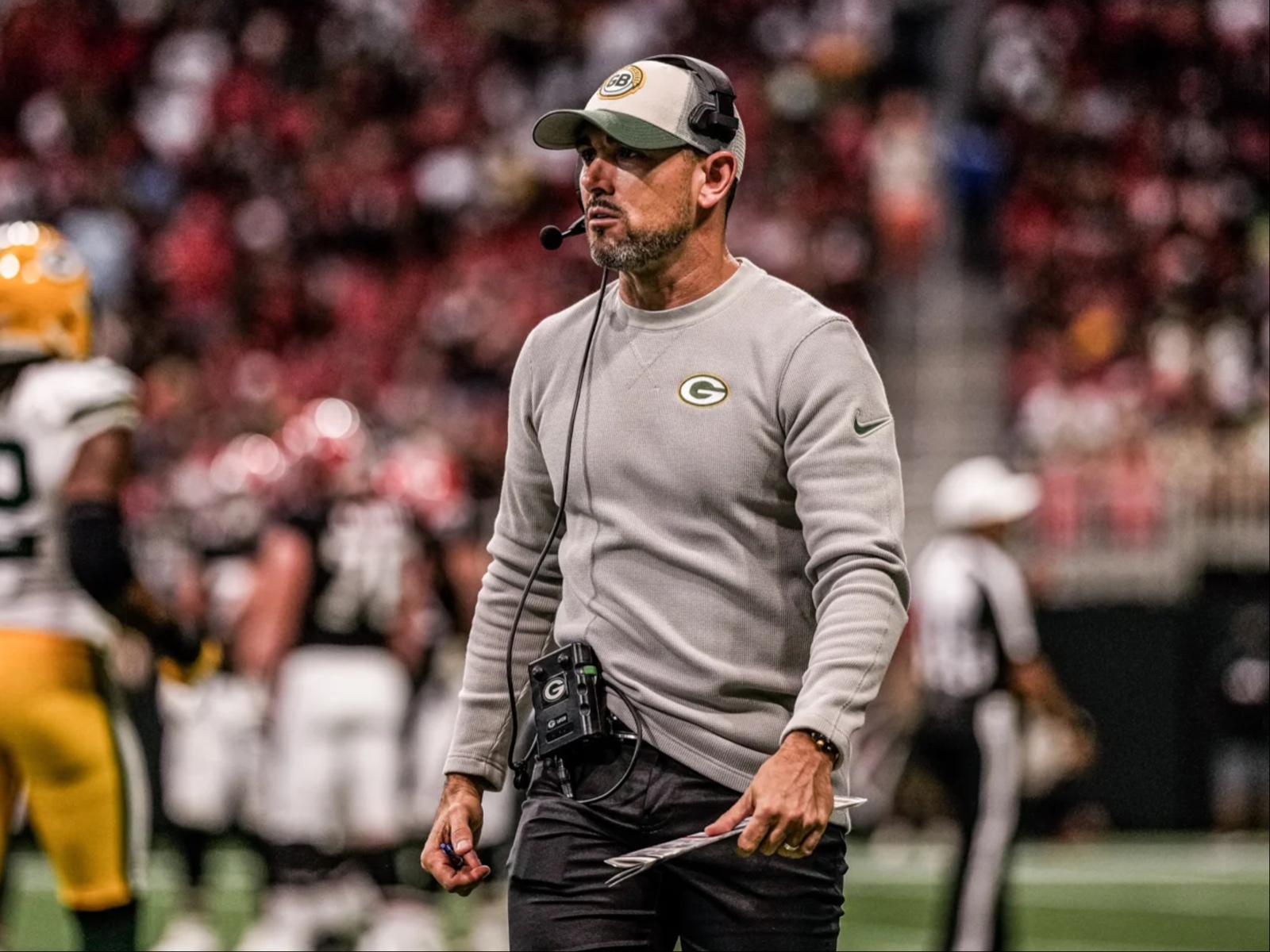 OK, so we're just two games into a completely new era – and one of those games was mostly bliss – so maybe I should pump the brakes on "hot seat" talk. But as much as this season was heralded as Love having to prove himself, it's just as much about Matt LaFleur proving himself too without a Hall-of-Famer to lead the way. And thus far? Jury's still out.
For being a fairly new team, there were several familiar frustrations for Packers fans on the field Sunday. Like last year, Green Bay's offense seemed uncapable of doing anything – quite literally, anything – for large stretches of time, particularly late when the Falcons started to assemble their comeback. And like last year, the defensive scheme refused to adjust to the game and to their opponent's offense, continuing to get gouged by Robinson on the ground for chunk-yards at a time rather than forcing the Falcons' still-raw quarterback to make some critical throws. And like last year, there were some odd coaching gaffes – like allowing a delay of game on that first quarter drive, costing a potential field goal from the so-far sure-footed Anders Carlson. In general, there was a lack of boot-on-the-neck mentality that allowed the Falcons to retake the win – one last time, JUST LIKE LAST YEAR.
Oh hey, and remember last week when it took LaFleur a whole half to remember his best player (Aaron Jones) was both available and good at sports? And remember the third quarter full of chunk-gains and silly undisciplined penalties that almost got Chicago back in the game? Add that all up, and you've got a few more questions than answers for the Love era – just not about Jordan Love.
I have a feeling some of those answers might come with next week's double whammy – hopefully starting with an unholy reckoning coming the Saints' way on Sunday.
As much as it is a gigantic cliché to say that one has always had a passion for film, Matt Mueller has always had a passion for film. Whether it was bringing in the latest movie reviews for his first grade show-and-tell or writing film reviews for the St. Norbert College Times as a high school student, Matt is way too obsessed with movies for his own good.
When he's not writing about the latest blockbuster or talking much too glowingly about "Piranha 3D," Matt can probably be found watching literally any sport (minus cricket) or working at – get this – a local movie theater. Or watching a movie. Yeah, he's probably watching a movie.