by Jorge Gomez • 6 min read
After scoring a big win at the U.S. Supreme Court, Coach Joe Kennedy is coming back for his first football game at Bremerton High School on Sept. 1. After nearly eight seasons off the field, he'll finally be able take a knee and pray on the 50-yard line after the game. And because of the landmark decision in Kennedy v. Bremerton School District, a huge shift is happening for religious expression in America.
We are celebrating this by inviting everyone to take the First Freedom Challenge. It's our prayer that you will take a moment to kneel and pray—not on the field in Bremerton—but at your local game, stadium or wherever you are, and then post your "First Down" pose on social media.
With the 2023 football season kicking off, we continue exploring the connection between faith and football. This week, we take a look at the history of prayer circles.
Huddling Up to Pray
Anyone who watches football is bound to come across players, coaches or fans putting their faith on display. Most of us think of players going to a knee after a touchdown, pointing upward to God or referencing their faith during press conferences.
But we also commonly see prayers and coaches huddled in prayer before and after games. A basic Google search for "football prayer circles" will render countless images of this expression of faith at all levels of the game, whether it's at the Super Bowl, college bowl games or at local high school games:
In the NFL, prayer circles have been around for at least 33 seasons. Pause and think about this for a moment: As we look ahead to the new season and to Super Bowl 58, prayer circles have been commonplace for most of the last 50 years!
In a piece titled "Taking A Knee: Professional Football And Its Mysterious Postgame Prayer," Deseret News traces post-game prayer circles in the NFL back to the early 1990s:
"By the 1990 season, religion had moved beyond its relative obscurity during the NFL's early years. Players like All-Pros Mike Singletary and Reggie White had shown teammates and opponents that there was nothing weak about believing in God."
The prayer huddle familiar to so many fans had its beginning after a Monday Night Football game on Dec. 3, 1990, when players from the New York Giants and San Francisco 49ers took a knee together after the game. This was no easy feat. Sports Spectrum reported that this happened at a time when "being a Christian in the NFL was frowned upon."
A core group of players on the 49ers, however, decided to conceal their faith no longer. Three time Super Bowl champion tight end Brent Jones was among them. "For the very, very first time ever, five or six guys from our 49ers Bible study decided to let the world know that Christ was the most important thing in our lives," he said. "We had the opportunity to…kneel down and pray with a couple of Giants after a game, which had never been done."
According to Patheos, "the move was orchestrated by the chaplains from both teams" and "the Giants prayed with every team after that for the rest of the season, including the Bills, who they beat in the Super Bowl."
In an exclusive interview with First Liberty, Jones looked back on the 30-year history of prayer circles and shared what it was like to be among those who turned this into a widespread tradition:
The tradition continues to this day with prayer circles happening with virtually every NFL team. In 2020, the Boston Globe reported:
"At the conclusion of every Patriots game, when nearly everyone has cleared the field, a small group of players will stay behind. They'll gather in a circle at midfield, kneel, and lower their heads. No matter what just happened in the game, the group, a mix of personnel from both teams, will take a moment to pray together."
Last season, Denver Broncos quarterback Russell Wilson led his teammates and opposing players from the Jacksonville Jaguars in prayer right after the game:
We've already witnessed the prayer huddle on full display during the current 2023 NFL preseason. Shortly before taking on the Seattle Seahawks on August 19, several Dallas Cowboys put their arms around each other and prayed.
Faith is a source of inspiration, courage and strength for those who play, as well for millions who love to watch football. In fact, polling data shows that Americans strongly support the free exercise of religion happening on the field. According to an Associated Press poll from last fall:
Thanks to the landmark ruling in Kennedy v. Bremerton School District, God is opening new doors for every American to express their faith, whether they're on the field or in the stands.  Players, coaches, students, fans and all people of faith have more religious freedom in more than 50 years.
We invite you to join us Sept. 1 for our First Freedom Challenge.
This will be a national night of prayer for everyone who's been cheering for Coach on his long journey back to the field. We encourage you—and every American—to show your support. Live out your faith, take a knee and pray! This simple, yet powerful step could help restore faith in our schools and communities, and even spark a revival throughout our country.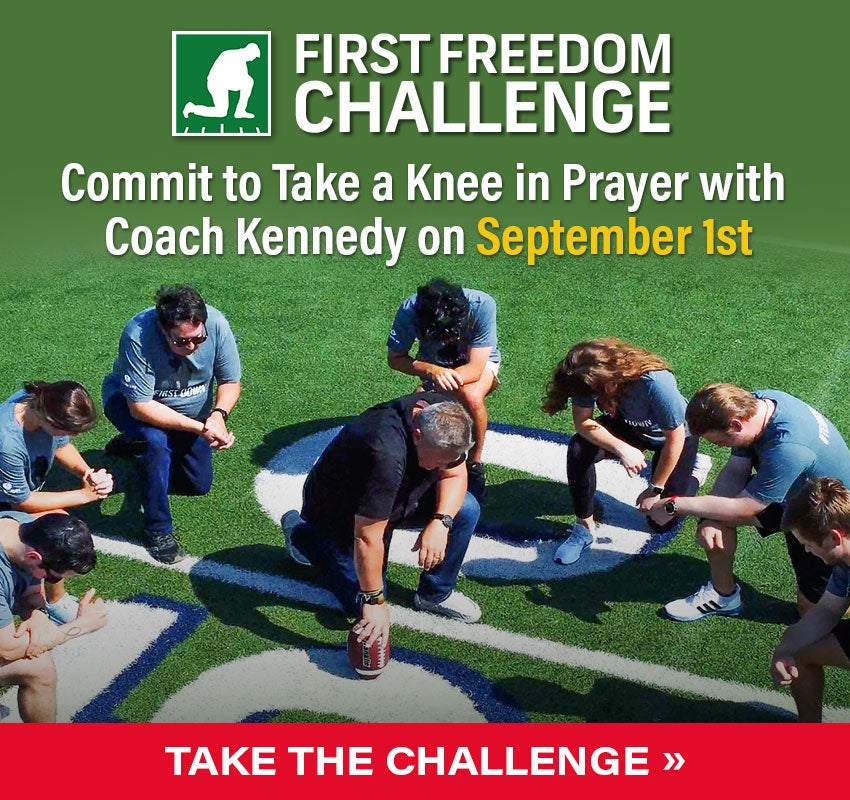 Texas city uses zoning regulations to block a historic black church, White Rock Chapel, from living out its faith.
First Liberty and the Church State Council and the law firm Baker Botts LLP filed a petition for Fire Chief Ron Hittle.
Terms of Use • Privacy Policy • Sitemap • © 2023 Liberty Institute® is a trademark of First Liberty Institute



Yes, I would like to receive e-mail from First Liberty Institute

By clicking submit, you are verifying that you are 16 years of age or older.


Yes, I would like to receive e-mail from First Liberty Institute

By clicking submit, you are verifying that you are 16 years of age or older.






Yes, I would like to receive e-mail from First Liberty Institute

By clicking submit, you are verifying that you are 16 years of age or older.