The promise of a new frontier in finance, a hedge fund powered by the prowess of artificial intelligence, lured unsuspecting investors and delivered a tale of deceit.
The founder and CEO of Tadrus Capital, LLC, Mina Tadrus, has been charged with wire fraud in what appears to be a disturbing trend of old crimes dressed in new technological clothing.
Late last week, a criminal complaint, unsealed in federal court in Brooklyn, detailed the alleged actions of Mr. Tadrus, who was arrested Monday morning in Tampa, Florida. Following his arrest, Tadrus made an appearance in federal court in the Middle District of Florida, securing his release on a $100,000 bond.
The 36-year-old former registered stockbroker stands accused of exploiting the Egyptian American Coptic Christian community. He is alleged to have promised them annual returns of 30% or more through Tadrus Capital's purported AI-powered trading strategies.
The charges draw a damning portrait of Tadrus: A charismatic figure who gained the trust of potential investors at a Coptic Christian Church in Brooklyn, promising them high returns on investments driven by advanced artificial intelligence. However, in reality, it seems the cutting-edge AI element was nothing more than smoke and mirrors.
According to U.S. Attorney for the Eastern District of New York Breon Peace, "Tadrus preyed on the community with a scheme built on false promises. He never invested a dime and used new investor funds to line his own pockets."
Allegations point to a grim reality where, instead of employing groundbreaking AI to trade, Tadrus is accused of misappropriating at least $5 million. These funds, rather than being invested as promised, were allegedly used for his personal luxuries and to pay fake "returns" to fresh investors.
The charges are currently allegations. If found guilty, Tadrus faces a penalty of up to 20 years in prison.
The proceedings will be managed by the office's Business and Securities Fraud Section, with Assistant U.S. Attorneys Genny Ngai and John O. Enright spearheading the prosecution.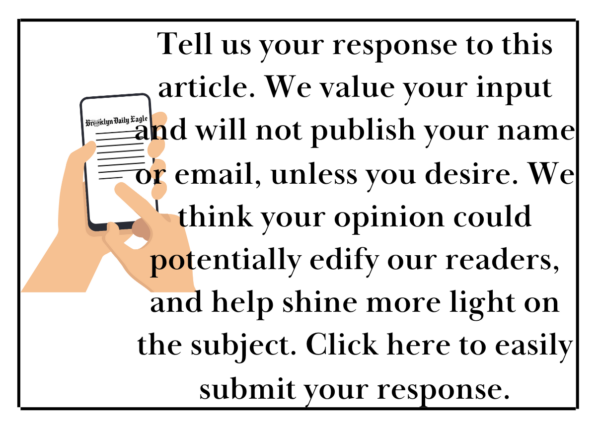 COMMON U.S. DECONGESTANT DOESN'T WORK AT ALL, FDA SAYS
✰✰✰
POLICE: BROOKLYN RESTAURANT OWNER INTENTIONALLY DROVE CAR INTO MIGRANTS
✰✰✰
NYC EMERGENCY MANAGEMENT: KEEP AN EYE ON HURRICANE LEE
✰✰✰
NYC ANNOUNCES NEW PLAN TO REIMAGINE 'CHAOTIC' CURB SPACE
✰✰✰
NEW CEO AT PIONEER WORKS ARTS & SCIENCES CENTER IN RED HOOK
✰✰✰
Read more of today's breaking news, here.
See previous breaking news, here.
Collectively & continuously publishing
for more than 400 years.
Lessons and tidbits from history on this day
We are always seeking enthusiastic team members to help enhance and enlarge our content for and about Brooklyn. If you have experience and are savvy digitally, let us know about your interest in any of the following categories: creation of content and data for digital or print journalism promotion, sales and sponsorship packaging, management of a beat for environment, urban sustainability, real estate & business, food and drink, arts & entertainment, civic issues & politics, or hyperlocal neighborhood happenings.
Specify your area of interest and attach your resume to Joe Messina here.
Love Brooklyn? Looking for work in Brooklyn with a
flexible schedule?
Join our team!
Families with children account for 61% of New York City's unhoused people, or 34,456 of 56,334 total, according to the daily census.
If you would like to sponsor a notice, a photo, or an article about your favorite organization, or even wish a loved one Happy Birthday, send your content to Jennifer Hopewell, [email protected]
Ask anything about Brooklyn. Historical queries, urban legends, clarification on rumors — let us do the research for you! Submit your question here.
Have an opinion? Submit it as a letter to the editor using this form!
September 13, 2023Sep 13, 2023 | Clear, 74° F
The Brooklyn Daily Eagle and brooklyneagle.com cover Brooklyn 24/7 online and five days a week in print with the motto, "All Brooklyn All the Time." With a history dating back to 1841, the Eagle is New York City's only daily devoted exclusively to Brooklyn.
© 2023 Everything Brooklyn Media
https://brooklyneagle.com/articles/2023/09/11/founder-of-ai-driven-hedge-fund-accused-of-multi-million-dollar-fraud/
Follow
The Brooklyn Daily Eagle and brooklyneagle.com cover Brooklyn 24/7 online and five days a week in print with the motto, "All Brooklyn All the Time." With a history dating back to 1841, the Eagle is New York City's only daily devoted exclusively to Brooklyn.
© 2023 Eagle Urban Media