The world is a confusing place right now. We believe that faithful proclamation of the gospel is what our hostile and disoriented world needs. Do you believe that too? Help TGC bring biblical wisdom to the confusing issues across the world by making a gift to our international work.
It looks like movie-based services are back on the church marquee—and producing new debates among Christians who feel these outreaches are either great spiritual conversation starters or else too frivolous for Sunday mornings.
Some of us may associate these projects with older seeker-friendly efforts. But this year's blockbuster franchises have brought movie-based services back to viral infamy, including a Super Mario Bros.–minded message and a Barbie pink–covered lesson. Saddleback Church hosted a whole "At the Movies" series, which two church leaders started by dressing as Woody and Bo Peep from Toy Story 4.
Some churches go beyond stage backgrounds or cosplay, such as one church that in 2022 got into legal trouble over its "illegal, unauthorized production" of the musical Hamilton and one that stages pop culture–based "Easter pageants."
Some dismiss this as Christian cringe. Others say these attempts subvert the gathered church's purpose. In their view, Christ's people have come together to worship our Lord through song and fellowship and especially the teaching of his Word, not to waste the morning on secular trivialities.
The question of whether to mention the latest blockbuster from the pulpit requires wisdom. When are pop culture references from the pulpit distracting? When are they appropriate? It's valuable for Christians—and especially pastors—to carefully consider these questions.
Movie-Based Sermons Miss the Heart of Sunday Morning Worship
My church, a Southern Baptist congregation north of Austin, Texas, would never try a "Let's Go to the Movies!" sermon, and I'm glad. I don't attend a Sunday service for movies, just as I don't go to movies to hear sermons.
Sure, many pastors I've loved have publicly referenced summer flicks, sports teams, or hit songs—but they don't base the whole sermon on that pop culture topic.
I don't attend a Sunday service for movies, just as I don't go to movies to hear sermons.
I don't attend a Sunday service for movies, just as I don't go to movies to hear sermons.
Eternally effective church sermons focus on Jesus as revealed in the Scripture, best if taught expositionally (verse by verse) by trained preachers who delight in delving into its pages for Christ-centered riches (cf. Luke 24:27). Even good topical teaching will focus on the Bible's revelation, with sparse references to popular culture.
For example, John Piper blurted the off-manuscript remark that "Avatar is boring!" contrasted with God's Word, and Alistair Begg is fond of referencing Beatles lyrics. Such casual mentions ring different from organizing a whole Sunday service around the latest franchise du jour, much less cosplaying as licensed characters.
Movie-sermon defenders may explain how films reveal our world's spiritual longings and idols. After all, the apostle Paul used Greek culture to frame his message (Acts 17). But Paul wasn't preaching to other Christians in a specific discipleship setting; he was doing what we might call open-air evangelism, and then debate. He wanted local churches to teach the Scriptures, not to decorate the place with "unknown god" statues to serve as sermon illustrations.
Some Critics Miss the Point of Good Pop-Culture Engagement
Unfortunately, many critics of movie-based sermons have their own myopia. In their reaction to evangelical programs that place popular culture too highly in the Sunday service, they don't seem to see any place for popular culture engagement in a church member's daily callings.
I've heard folks admit, "Yes, of course, we think it's OK for Christians to watch movies." But they show little interest in connecting the gospel to this ordinary human habit. Sometimes they're even offended by the suggestion that theology should converse with our "everyday" enjoyments of stories and songs.
Any Christian defense, then, of a mere conversation about a recent song, or even an article about the Barbie movie, strikes these critics as compromising the gospel. Such reactions ignore practical gospel applications just as movie-based sermons ignore faithful gospel proclamations. The purpose of gospel preaching isn't just more preaching but to encourage our sanctified response in the real world—a world of God-given work and recreation, which includes popular culture.
Paul wanted local churches to teach the Scriptures, not decorate the place with 'unknown god' statues to serve as sermon illustrations.
Paul wanted local churches to teach the Scriptures, not decorate the place with 'unknown god' statues to serve as sermon illustrations.
We live under the cultural mandate as much as under the Great Commission, and we err if we attempt to split them or ignore the terms of these divine callings. Nor should we erect some new divide between the "sacred" pulpit of gospel sermons and the "secular" realm of human stories. We glorify Christ differently in different places.
No, we don't need church leaders to play movie clips or dress up to glorify Jesus in Sunday worship. But we do need faithful leaders to help us train for continued worship—for the times we're sitting not in pews but on couches or theater seats.
Connect Sundays with Monday–Saturday
Often when Christians talk about pop culture, it's before and after the Sunday service. They've seen a movie on Saturday or they're watching a game on Monday. These are perfect times for us to apply what we've learned on Sundays. Having trained in the gospel as the church, we can practice taking these truths into our daily lives. Even if churches are wise to avoid focusing on pop culture during Sunday services, we can and should apply Sunday truths to everyday pursuits.
For those uncertain about what Sunday hath to do with Monday–Saturday pop culture, churches can bridge the divide with extra resources. Along with writing and recommending books and websites that apply biblical truth to human imagination, gifted teachers might offer a class about media discernment. Youth groups or VBS programs can host family movie nights. I fondly recall one Presbyterian church's Sunday-school book club in the early 2000s in which two well-read Christians—the music pastor and a community college English teacher—happily brought readers into the world of Tolkien's Lord of the Rings.
Sermons have a unique role in church services. That's too biblically significant for preachers to foreground any hero other than Jesus Christ. But that doesn't mean church leaders must never talk about anything but specific gospel exposition. Christians disciple one another in all of life. No matter our surroundings, we must apply the gospel with wisdom, including in the distinct settings of church and cinema.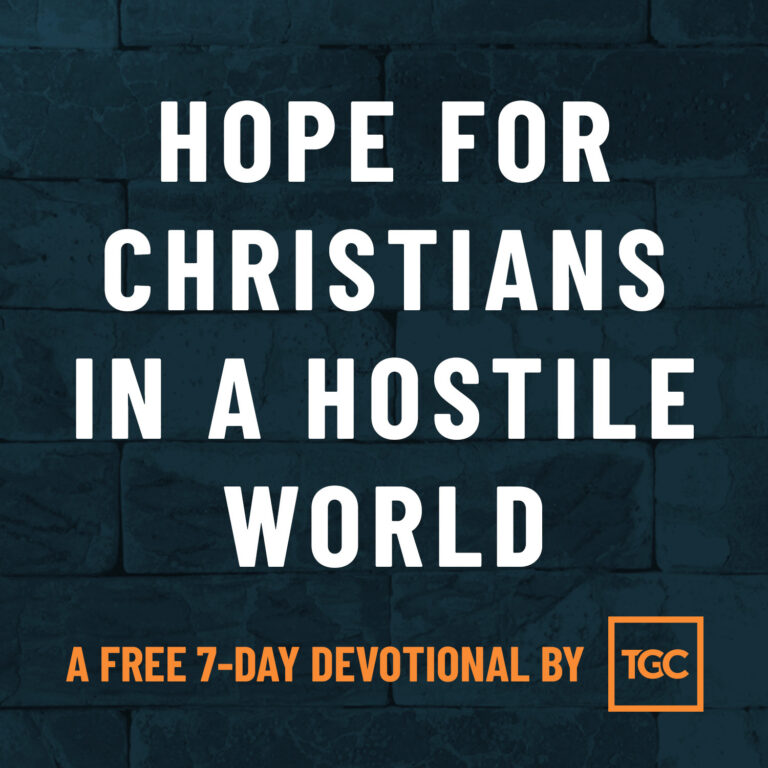 God's people have always been strangers and sojourners in this world. Do you feel that way, too?
You're not alone. Since the church's beginnings, Christians have often felt ostracized. And the Bible offers great encouragement for how to live with hope.
If you're feeling the weight of cultural exile today, our new 7-day devotional, Hope for Christians in a Hostile World, will encourage you.
If you sign up for this FREE resource, we'll send you an email each day for a week with a daily devotional featuring Bible readings and reflections written by TGC staff and friends.
Get your free devotional »
E. Stephen Burnett creates sci-fi and fantasy novels as well as nonfiction, exploring fantastical stories for God's glory as publisher of Lorehaven.com with its Fantastical Truth podcast. He is coauthor of The Pop Culture Parent: Helping Kids Engage Their World for Christ (New Growth Press, 2020). He and his wife, Lacy, live near Austin, Texas, where they serve as members of Faith Baptist Church.
If we're going to see young people transformed, we can't keep them at arm's length.