The world is a confusing place right now. We believe that faithful proclamation of the gospel is what our hostile and disoriented world needs. Do you believe that too? Help TGC bring biblical wisdom to the confusing issues across the world by making a gift to our international work.
At a meeting of academic theologians a few years ago, I observed a heated discussion over a particularly esoteric question about God's relationship to numbers. For three solid hours, several scholars debated whether numbers are real and if so, how they relate to God.
While I struggled to stay awake in this session, my mind gravitated toward the people I shepherd weekly in the local church. What would my church members think if they heard this conversation? Would it build them up in Christ or would it scare them away from the study of Christian theology?
Academic theology is best when it equips the scholars who equip local church leaders. If academics cannot connect the dots between Christian doctrine and the teaching ministry of the local church, then we fail the task God has given us.
This important connection between theology and discipleship is rarely articulated as well as it has been in Jen Wilkin and J. T. English's book You Are a Theologian: An Invitation to Know and Love God Well. Wilkin is an author and Bible teacher. English is a systematic theologian and lead pastor of Storyline Church in Arvada, Colorado.
Wilkin and English frame the pursuit of theological learning as part of fulfilling the Great Commission (Matt. 28:18–20). It's at the heart of the mission of the church. The process of being disciples that make disciples includes every Christian becoming a theologian.
Theology can be intimidating. But it doesn't have to be. Whether conversations about theology have felt out of reach, over your head, or irrelevant, consider this book an invitation to the dialogue.
The goal of theology is knowing and loving God well. This is a lifelong endeavor, a never-ending pursuit, not for the sake of knowledge, but for an ever-deepening relationship with God Himself. Authors Jen Wilkin and J. T. English invite you to become not merely a consumer of theology, but a contributor to the conversation, and to grow in faithfulness to the Great Commission's call to make disciples.
Wilkin and English have two simple goals with this book. First, they write to convince their audience of lay readers that they too can study Christian theology without fear or intimidation. Even if most people in our churches aren't professional, academic theologians, they're all theologians in the sense that they have beliefs about God that shape their worldviews.
Second, Wilkin and English want to grow their readers in the love and knowledge of God by walking them through the key issues of Christian theology. In so doing, Wilkin and English have written the book I've waited years to see: a systematic theology so clear and so accessible that it can be used in any discipleship group or Bible study class in our church.
Even those who are brand new to the faith can pick up this text and come away with a clearer understanding of what Christians believe and why it matters.
This book combines a relatable style and prose with a clear understanding of the theological task to produce a book that will be attractive to all audiences in the local church. Even those who are brand new to the faith can pick up this text and come away with a better understanding of what Christians believe and why it matters.
This isn't a groundbreaking systematic theology. It wasn't intended to be. Those who are new to the study of Christian theology will learn key concepts and grasp their practical importance.
Wilkin and English do more than teach us the content of Christian theology. They also serve as helpful models for how to teach Christian theology well. That makes this book beneficial for seasoned theologians as well.
You Are a Theologian doesn't shy away from terms and concepts that are usually ignored in church discipleship materials. Many of their lay readers will probably encounter terms like "immanent Trinity," "economic Trinity," and "hypostatic union" for the first time. Yet the authors offer plain explanations, usually accompanied by illustrations from pop culture that would be accessible to a general audience. The downside of some of these references is that they may date the book more quickly than it deserves.
In my experience, churches are filled with thinkers, feelers, and doers. Thinkers naturally gravitate toward theological discussion, but feelers and doers tend to be left out of the conversation. Wilkin and English understand that reaching a general audience in the local church means teaching theology to all three groups of people.
They argue, "Theology matters because it shapes us not merely at the intellectual level, but at the emotional and the practical level" (18). They write with the conviction that theology has a "holistic impact . . . on our lives: we think differently, feel differently, and act differently as a result of developing better categories for understanding God" (19).
Wilkin and English argue our theology becomes richer when it's studied in the community of the local church, the global faith family, and the broader Christian tradition throughout history. In this book, they demonstrate humble theology, devoid of polemics and theological potshots.
Some readers may be disappointed to pick up a theology text that sidesteps many of the key debates in Christian theology: different understandings of the atonement, the variety of spiritual gifts, the timeline of the millennium, and so on. Wilkin and English don't avoid those conversations because they aren't important but because they aim to write an introductory text that can be used in any evangelical church.
Our theology becomes richer when it is studied in the community of the local church, the global faith family, and the broader Christian tradition throughout history.
The heart of this book isn't head knowledge but authentic worship. This follows the example of the New Testament. For example, the apostle Paul concluded three chapters of heavy theology in Romans 9–11 with a song of praise about the depth and the riches of the knowledge of God (Rom. 11:33–36).
The authors structured the volume so the mind's reflection on the deep things of God should also stir the affections of our hearts. To encourage worshipful transformation, Wilkin and English end each chapter with a series of discussion or self-reflection questions and a call to prayer and worship.
As a theology professor, I'm often asked to recommend an introductory theology text for discipleship groups or new member classes. For years, I've had to make recommendations with a string of qualifications. No more. From now on, You Are a Theologian will be my go-to recommendation. Disciple makers should be using this book for decades to come.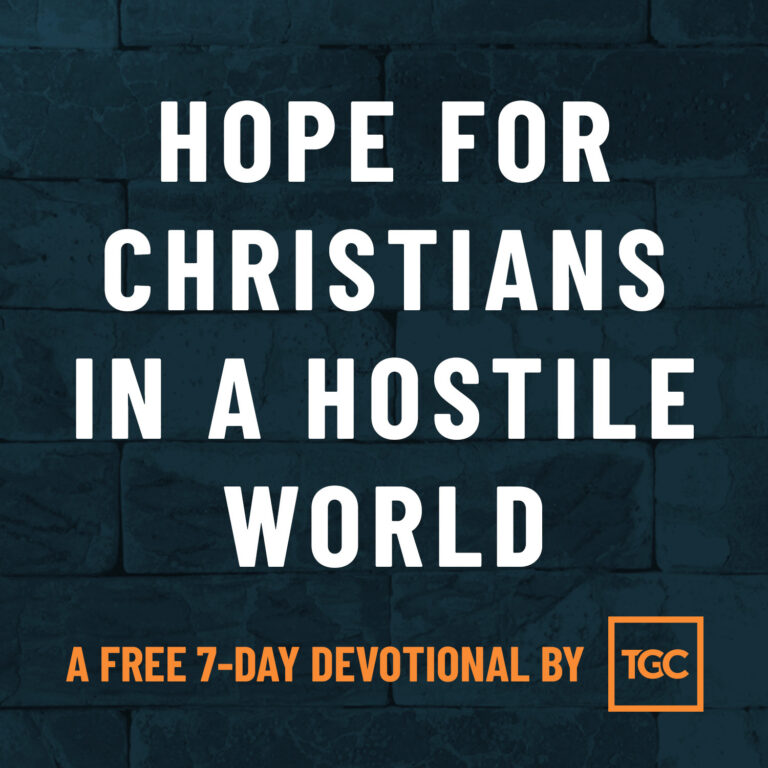 God's people have always been strangers and sojourners in this world. Do you feel that way, too?
You're not alone. Since the church's beginnings, Christians have often felt ostracized. And the Bible offers great encouragement for how to live with hope.
If you're feeling the weight of cultural exile today, our new 7-day devotional, Hope for Christians in a Hostile World, will encourage you.
If you sign up for this FREE resource, we'll send you an email each day for a week with a daily devotional featuring Bible readings and reflections written by TGC staff and friends.
Get your free devotional »
Rhyne Putman (PhD, New Orleans Baptist Theological Seminary) is associate vice president of academic affairs at Williams Baptist University and associate professor of theology at New Orleans Baptist Theological Seminary. He is the author of several books, including When Doctrine Divides the People of God (Crossway, 2020) and The Method of Christian Theology: A Basic Introduction (B&H Academic, 2021).
At what point should a Christian reject an otherwise masterfully crafted film or TV series because of its morally objectionable sexual content?