The world is a confusing place right now. We believe that faithful proclamation of the gospel is what our hostile and disoriented world needs. Do you believe that too? Help TGC bring biblical wisdom to the confusing issues across the world by making a gift to our international work.
The year was 2014, during a hot summer in the southwestern corner of Oklahoma at a retreat center called Quartz Mountain.
I was there as a fledgling member of the creative writing cohort for that year's young adults' arts camp, sitting in an auditorium with a few hundred other high schoolers and watching a performance from the interpretative dance team. The performance was slow, off-kilter, and earthy somehow, like the dancers were trying to imitate growing trees. I'd never seen anything remotely like it and wasn't sure I enjoyed it.
Afterward, the dance instructor fielded questions from the audience, and—surprisingly for a crew as secular as this one—a student asked, "What's your religion?"
The instructor said, "I'm not religious." Then, after a pause, she gestured behind her to the dancers and the dimly lit set, and said, "This . . . this is my religion."
Replacing Faith with Art
My experience at the camp suggested that arts and religion in the United States had undergone an ugly divorce, or rather switched spots in the hierarchy. But building a life of meaning upon art can be bankrupt, even dangerous.
The evidence is there. One thinks of Ernest Hemingway, Virginia Woolf, Sylvia Plath, and David Foster Wallace. Remarkable writers all, yet each died by suicide. They all had complicated stories, but the power of their own words didn't seem to be enough to justify their lives. Similarly, F. Scott Fitzgerald dissolved into alcoholism and an early death.
I admire these figures, and not for a second do I want to dismiss the real pain and suffering they experienced. Nor do I mean to suggest that Christians (artists or otherwise) are somehow immune to mental health struggles. I only wonder if part of their angst and pain—like mine—stemmed from being like trees severed from the root.
Integrating Faith and Art
I was also on the path toward "art as religion," in part because the two subjects always felt to me like strange, disconnected bedfellows.
It wasn't until getting to Wheaton College, the evangelical school in the Chicago suburbs, that I discovered the "integration" of art and faith. Before then, religion for me was one thing—the important thing—and creative writing (the activity that most interested me) was a side gig, a "passion," a "hobby."
Wheaton excited me because my professors saw little point in wedging the two apart. Art could reflect God's glory, like Bach's signature "Soli Deo gloria" at the bottom of his compositions, or like Tolkien's mythic The Lord of the Rings or Dostoevsky's The Brothers Karamazov. I realized many of history's most brilliant artistic minds were Christian believers who infused religion in their work. I came to see that to separate faith from the literary enterprise would be a crime against the work's integrity.
On most contemporary campuses, English majors and aspiring writers are warned against the pitfalls of overt religious or philosophical perspectives. Writing to sermonize the reader, whatever ideological persuasion you've adopted, is off-limits. And yet, what do we make of chapters like "The Grand Inquisitor" in The Brothers Karamazov, philosophical ramblings in War and Peace, and faith-on-display poems like The Divine Comedy and Paradise Lost?
Were those poets too "overt" with their religious commitments? Did they trespass Creative Writing 101's mandate to "show, don't tell"? These questions would have been nonsensical to classical writers but are common now in our secular age. Today, the assumption is that traditional religion has little to say to art (and vice versa) and that every sort of intersectional "identity" should be expressed in one's art—every identity except that of a traditional Christian. That identity must stay decidedly off your compositions and canvases.
Art Dies Without Vision
Despite the guidance from Wheaton professors, I eventually began to deify the arts myself. Skewed priorities made me more anxious. I put immense pressure on myself, saying that if I wasn't published by 25, I would be a failure. My need to be a "true artist" sidelined truth. More important than truth were productivity and credibility. Sadly, I'd lost my foundation for the work that used to come so easily and with so little justification.
Paradoxically, the more I wanted to be a "serious" writer, the less I wrote. The more I tried to spin myself as literary, the less literature I read—or enjoyed.
The assumption is that traditional religion has little to say to art and that every sort of intersectional 'identity' should be expressed in one's art—every identity except that of a traditional Christian.
The assumption is that traditional religion has little to say to art and that every sort of intersectional 'identity' should be expressed in one's art—every identity except that of a traditional Christian.
This confirms the wisdom of C. S. Lewis, who saw the "art as religion" movement in his own day and insisted we put first things first. In his essay "Christianity and Literature," he writes, "The Christian knows from the outset that the salvation of a single soul is more important than the production or preservation of all the epics and tragedies in the world."
It also confirms that when you can no longer identify life's ultimate meaning and apply it to your mortal context, art making is vapid. When women and men lose a vision for life, they die, and eventually, art dies too.
Religion of Self-Expression
Today, the prevailing religion isn't just art generally but self-expressive art. Art, they say, should be entirely about rendering the experience and feelings of the self and resisting the traditions and institutions that threaten to oppress it.
To be sure, that's part of good art. Writing a memoir isn't a selfish act; who knows how many people will relate to your experience? Art from lived experience can sometimes speak prophetic truth to power.
Yet expressing the self gets exhausting, because the self not only needs to be communicated but must also be validated. The expressive artist soon realizes the self isn't an infinite well of inspiration and that the frenetic world of social media is a meager place to go to for truth, goodness, and beauty, let alone for a real community of feedback. Art becomes less about art and more about the mixed-up identity of the artist. Who will listen to me, tortured me?
The foundation is lacking. The vision fails to transcend the self. And the self is buried by the weight.
Better Foundation
The other day, I moved my desk to another corner of the room. As I put the drawers back in and organized the surface, I stacked three books against the wall: a Christian almanac, the 2017 novel and short story writer's market guide, and a book by my old Wheaton professor, Read Schuchardt, titled Media, Journalism, and Communication: A Student's Guide.
I didn't think much about the arrangement at first. The almanac is the thickest volume, with the writer's guide about a third the width, and Schuchardt's modest title forming a nice slice on top. A few mornings ago, though, as I drank coffee and observed the three books, that word occurred to me again: foundation.
Along with millions of other post-COVID 20-somethings, I've been in search of the foundational: something to plant my transient feet on. And looking at this stack, I realized not only that a foundation was necessary but that it couldn't be fiction or journalism. It couldn't be the arts and the humanities. It couldn't be me. It had to be Jesus and the great Jesus tradition.
The Christian almanac features an entry per day on history's most inspiring figures and events. Plenty of artists and writers make it in there, like Samuel Johnson, C. S. Lewis, and George Herbert, but so do pastors and leaders like Frederick Douglass, George Whitefield, and Simone Weil. It's a beautiful book because it offers a compendium of what the author in Hebrews referred to as the great "cloud of witnesses." We're preceded by a consortium of Spirit-led men and women, and from beyond the grave, they're calling us to carry the flame of life, love, and truth forward into the future.
It's no small task, and I just have one desk. But I've decided to keep the order of the books. I've decided not to try to build a ceiling with foundation material or use drywall for flooring. First things first. Let all other loves be what they are once Love Himself is stationed rightly.
Let all other loves be what they are once Love Himself is stationed rightly.
Let all other loves be what they are once Love Himself is stationed rightly.
To write, we first have to read. To speak, we first have to listen. We have to listen to voices besides our own, to the witnesses of the church before us.
This isn't a task only for writers or artists. God wants everyone to join the great dance. And he wants us to know that the dance is going somewhere—it's not an end unto itself. When we're asked about our religion, and why we're all dancing in unity, all we'll have to do is point to the Maestro.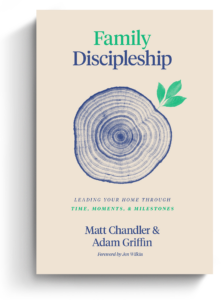 The back-to-school season is stressful for moms and dads. New rhythms of school, sports, and other extracurricular activities can quickly fill up a family's already busy calendar. Where do busy parents look for resources on discipling their family well? Aside from prioritizing church, what else can Christian parents do to instill healthy spiritual habits in their household?
Matt Chandler and Adam Griffin cover these questions and more in Family Discipleship: Leading Your Home through Time, Moments, and Milestones. And we're excited to offer this book to you for FREE as an eBook today.
Click on the link below to get instant access to your FREE Family Discipleship eBook now!
Get your free eBook »
Peter Biles is the author of Hillbilly Hymn and Keep and Other Stories. He graduated from Wheaton College (Illinois) and earned a master of fine arts in creative writing from Seattle Pacific University.
While the 18-to-30-year-old time frame is the period when people are most susceptible to dechurching, the cause doesn't seem to be secular higher education.